Videos are powerful tools for promoting your brand's events—but only when done right. Videos need to inspire people to attend and show off the value of content and exhibitors all while remaining true to your brand image. We asked Chris Craig, founder of Chris Craig Productions, for his best-practice advice for creating event promotion videos, based on his experience creating thousands of corporate videos for clients like Autodesk.
"People go to events because they think they're going to learn something, or they think it will be an amazing social opportunity," Craig says. "You've got to show them all that stuff."
The event video needs to convey that speakers will be meaningful, presentations will be well-produced, and that there will be fun activities where attendees can socialize with each other.
Tip 1: Get Footage Now, Save it for Next Time
The best way to showcase an event's value, Craig says, is to capture video at events you're already staging. "You have to be planning for next year's video this year," he says. This means shooting plenty of footage at this year's event and ideally adding it to an archive of footage from past events. "You should have crews shooting exhibits, people having a good time walking the floor, presenters on stage," Craig says "There's potentially useful footage everywhere."
4 must-have shots:
A wide overview of the exhibit floor. A GoPro is the easiest way to get this shot. Position the camera as high as possible for the wide angle, or capture time-lapse footage to show foot traffic.
Keynote speakers (and the rapt audience). Place the camera (again, a GoPro works best) behind the stage to show audience size. For a more dramatic effect, use a handheld camera and walk to from the back of the venue to the stage.
B-roll of attendees enjoying themselves. Potential attendees like looking at people having a good time at events. Get shots of them interacting and meeting new people, exploring exhibits and attending breakout sessions.
A 'wow-factor' shot. This is your chance to get creative. Place cameras on wheelchairs or skateboards and push them through the aisles. Hover a drone over the main entrance as crowds enter. Or mount a time-lapse camera on a car and drive up to the venue.
This was the strategy Craig used when creating a wrap-up video for Autodesk's Forge DevCon, which was shown at the close of the event. Craig and his crew took video of just about everything at DevCon: pre-parties, after-parties, basically footage of people having a great time. "We also got shots of every cool technology and product on the exhibition floor, and some snippets of presentations in the main hall," he says.
Tip 2: Plan Shots in Advance
While post-production is where the magic happens, pre-production is also critical. "A little pre-production goes a long way to make sure you won't end up with boring video," Craig says. This is where you'll have a chance to formulate a detailed shot list and plan various shooting strategies. For example, Craig often deploys drones to shoot aerial footage at events. "We'll fly a GoPro camera from behind the speaker and see the audience enthralled—or fly it over the audience to reveal the stage," Craig says. "That's a way to make the most mundane subject look exciting."
Pre-Production Checklist Items:
Find a voice for the project. Are you going for serious or fun? Or a mix of both? Embrace the cinematographer role because the shots you choose have a big impact.
Get your permissions and access in order. You'll need all-access badges for your crew. Some venues require a union crew, special insurance, load-in from specific entrances, and more.
Think about sound. Will the video be music and voice-over, or will there be interviews and natural sound?
What can't you shoot? Some exhibitors or presenters may have intellectual property that they don't want to be distributed publicly. Will there be headline entertainment? If so, can you shoot attendees and talent there?
Craig will also look for ways to make conference sessions look appealing for video. For example, he'll shoot footage of big-name presenters (or at least ones who are well-known in their field), since prospective attendees want evidence of high-caliber speakers.
"Good presenters often have good visuals, so we try to find those moments where something is really popping off the projector," Craig says.
Tip 3: Ask Exhibitors and Speakers for Footage
If you're starting from scratch and promoting a new event for which no old footage exists, there's no need to panic. Craig suggests asking exhibitors and sponsors if they have footage related to their products, and perhaps footage from other events. If your presenters have appeared at events in the past, there'll be video of them out in the wild. Post-production and editing are where you can take the footage your team has shot (or you've gathered from other sources), and turn into a compelling story.
Tip 4: Keep it short
Research has shown that viewer engagement drops significantly by three minutes—and precipitously at five minutes. "The most important thing is getting the viewers to the call to action," Craig says. "The longer the video is, the longer it'll take them to get there."Long videos also stretch your budget thin. "If you have a $10,000 budget, and you want a five-minute video, you'll have lower production values that if you make a one-minute video Craig says. "And it's those production values that make what may not be an exciting concept more compelling."
Research by Wistia, concludes that your engagement may rely on even shorter video length at just 2 minutes before engagement drops off dramatically.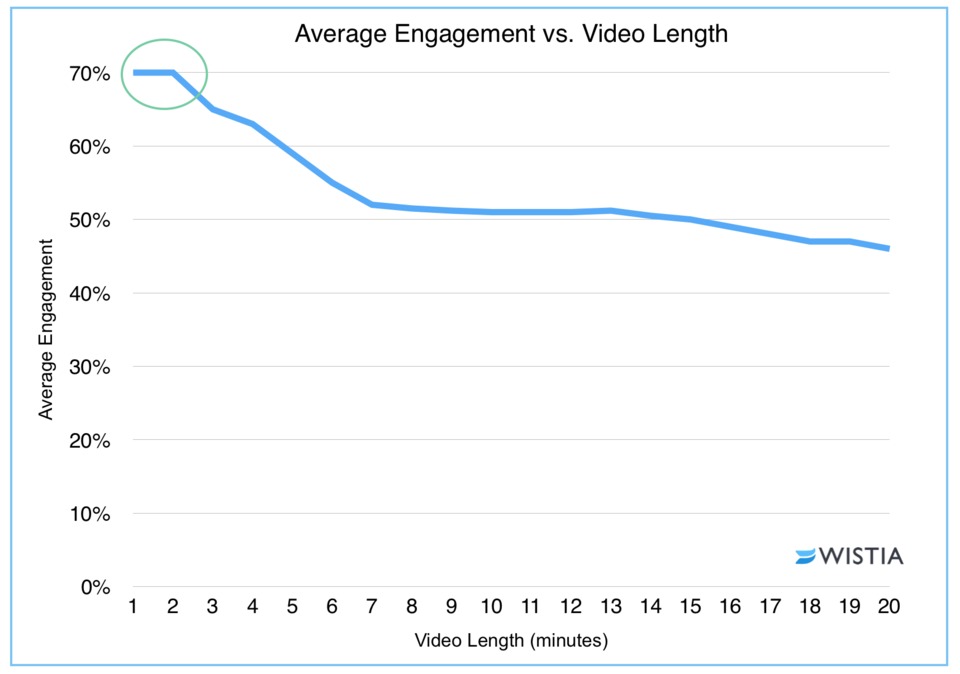 Source: Wistia
Tip 5: Share Inspiration with the Creative Team
When the event video is in production, share your high-level ideas with your creative team, and give them some freedom to create a video that's a bit out of the ordinary. "Most good producers and editors are talented creatives. If you let them express their creativity, you might end up with a better program than if you have a preconceived vision," Craig says.
When he was doing post-production for the Autodesk Forge DevCon video, Craig's client, a punk-rock lover, wanted to infuse the video with some punk edge. "We used a hard-driving music track and fast transitions," along with a speeded-up video to add energy. The result: What could have been a run-of-the-mill event video looks more like a music festival—something that would be sure to generate signups for the following year.